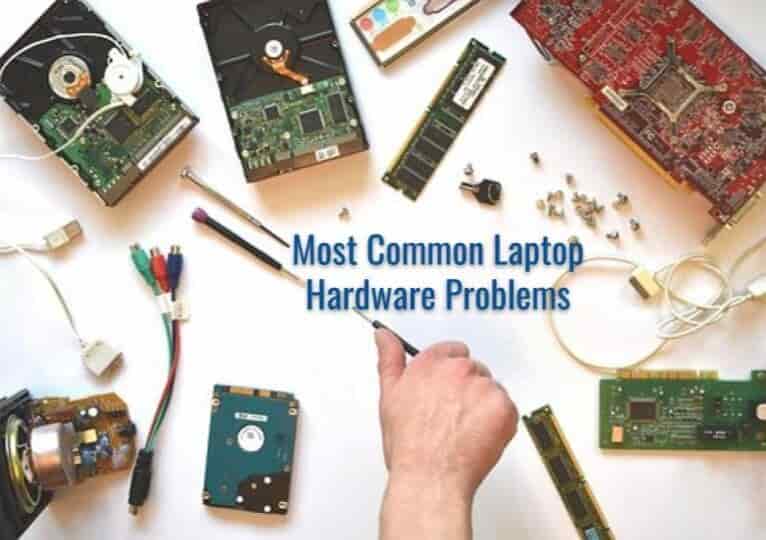 The hardware of a laptop:
Any computer device has two types of components, hardware and software. 
Hardware devices are physical devices. It is the machinery part of a computer. An assembled combination of hardware devices makes a structured computer device.  
Software devices are non-physical devices which work in the system. We can say that hardware devices function as the body, and software devices are considered the body's soul. A perfect combination of hardware and software makes a well-performing system.
Every device has an unfortunate possibility of malfunctioning. Every device, whether hardware or software, has a life span and a working period.   
We will talk about hardware issues today; how to spot a malfunctioning device? How to tackle it? 
We, LENOVO SERVICE CENTRE IN CHANDIGARH, are here to answer all of your questions and come up with the best solutions for you. 
First of all, we all need to get to know What are common laptop hardware issues?
There are many issues hardware can face. Sometimes there are visible problems, and sometimes, there are issues that are not visible to you. We are here to help you with that.
How to Diagnose and Repair Laptop Hardware Problems
Let's discuss "How to diagnose laptop hardware issues?" And "How do I fix hardware issues on my laptop?"
The first and most visible hardware issue is that your device is not turning on. You have been assigned work or a project, you grab your laptop, settle down and press the power button and you are waiting for your device to power on. But after waiting for a while, you notice your device hasn't turned on. You press the power button again to ensure you pushed it right the first time, you are still waiting for your device to get power, but it doesn't. After repeating it 4-5 times, you are sure that your device has a power issue. It is the most visible and noticeable issue on your laptop. What are its causes and how to fix them?
Solutions: 
First, ensure that you have charged your laptop. It has enough battery to power on. If you are sure you have charged your laptop, check on the A/C adapter to see if it's working correctly. To do that, you can plug it into another device or get it checked by a voltmeter. If your adapter is working and the problem persists, then it may be a fault in the D/C jack; it may have failed or short-circuited, so there aren't any dust particles, or any other substance stuck that is acting like a barrier. If not so, then you have got the D/C jack replaced. The problem may exist in the battery or motherboard if it's not the issue.
In a similar case, you have pressed the power button, hear a noise of booting up and notice a little light on your screen. But your screen is not visible. It's a blank screen; you can't use it, and you can't access it. That means your whole system is functional, but your screen is not.
First of all, try unplugging your laptop from the power source and removing the battery from it. Press and hold the power button for about a minute, plug it back in, and restart your computer. Now replace the battery and restart your laptop again.

If it doesn't work, your device may have a memory failure. Check the memory modules and whether they are making contact with the slot. It is necessary to replace the memory modules altogether. You can try removing your hard drive and modem. The motherboard or processor may malfunction, or your device has lost its display. You need to get it changed. 

A malfunctioning motherboard or a process may cause your device to get powered on and shut down repetitively. If you notice all these issues in your machine and check it on your level, you should contact a service centre. And get your motherboard or processor fixed. 
Your Laptop is making unpleasant noises
Imagine using your laptop in a public place, in a metro or park, where people around you surround you, and while using it, your system suddenly starts making unpleasant noises. It would be very embarrassing. And could disturb other people too. 
Solutions; 
If your system is making a grinding or a rattling noise. Then it may be a possible malfunction in the cooling. You have to check whether it is cleaned. There isn't anything blocking it from passing the air. Or maybe you need to get it changed. A malfunctioning fan can also cause the overheating of your system. You may notice its performance getting slow.
After ensuring you still hear those noises, turn off the system and see if your device is still making noise for a few seconds after the fan has stopped spinning. Then the sound may be coming out from the hard drive. You need to replace it before you back up all of your data on another disk or drive.
Battery drains too quickly.
One of the biggest pros of owning a laptop is its working compatibility with the battery. You don't need a power connection to use your system, you just need to get it charged, and you can use it tangle free. But what if your battery doesn't work accordingly. You don't need an efficient battery backup, or you notice your battery is not getting charged properly. 
It could be a fault in your battery, your A/C adapter, or even the D/C jack connected to your laptop. You can't get anything fixed; you have to get it replaced. 
And to maintain a healthy life for your battery, you should avoid using your laptop while charging. 
Keyboard or mouse doesn't work correctly
It'll be really disappointing if you use your laptop and your keyboard or mouse stops working or doesn't work correctly. You notice that some keys on your keyboard are not giving the required input. You see that you have difficulty moving your cursor. 
All you can do is to make sure you are pressing the key appropriately; you can remove the key and ensure there isn't anything stopping it from being packed correctly. 
There's nothing you can do about the mouse. You need to get the mouse and keyboard replaced. Or, as a temporary solution, you can use an external keyboard and mouse with USB connectivity.  
USB port doesn't work correctly
Talking about USB connectivity, a USB port is a small but essential laptop component. You may not notice, but you often use your USB port daily. And if it doesn't work correctly, you may face much trouble in your personal and professional life. 
You can try to fix it internally and to do that, you have to:
Press

Windows +R

  to open the device manager, and enter

devmgmt.msc.

Now expand the

Universal Serial Bus Controller.

Uninstall the

USB Host Controller

by right-clicking on it. And repeat it to uninstall all the drivers for all the USB ports.

Now restart your system. It will automatically reinstall the drivers and fix them.
But even after following these steps, try cleaning the USB ports from dust particles. If the problem still exists, there's nothing you can do about it; you need to get it changed. 
Now, these are the standard and most visible hardware issues. Other issues include malfunctioning the webcam, the system making repetitive beep sounds while starting, getting strangled, or disturbing visuals on your screen. All these issues can be resolved by only replacing the responsible hardware. And to do that you need to reach a service nearby. If you are anywhere in Chandigarh and Mohali, give a chance to Sneha It Solutions Lenovo Service Centre to get solutions to all your hardware-related issues.